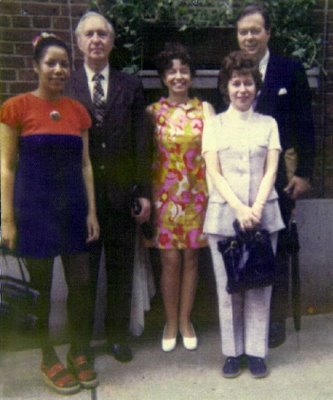 In the early 1970s, when I was Executive Assistant to the Vice President for Finance, Douglass Hunt, a distinguished and sophisticated Washington attorney, who served under the then Secretary of the Treasury, Henry Fowler, we shared the 110 Low Library suite with the renowned Professor Jacques Barzun.
One day when the men's room, adjacent to our office, was undergoing major repair work, I mentioned to Mr. Hunt that I thought, with all the drilling going on, we could look through an opening near the floor right into the men's room. He disagreed, so I said: Let's prove it. Take your umbrella in there and poke it through the hole, and, hopefully, I'll see it coming through our end. He, reluctantly, agreed, and I got down on my hands and knees and started shouting, hoping he would hear, Jiggle it, jiggle it! Unbeknownst to me, Mr. B. had entered the office and stood there with a bewildered expression on his face that spoke volumes.
P.S. We couldn't see through the hole.
When I retired from Columbia the end of January 2005, after 44 years, I included this incident in my farewell remarks at a gala reception in the Rotunda, and it brought the house down.
Florence (Flo) Grant
Volunteer at the Visitors Center
Columbia University
In the photo: Carol ?, Jacques Barzun, Virginia Xanthos Faggi, Flo Grant, Douglass Hunt. See 35 Years Ago.