In most centenary celebrations the subject is dead, but there's one coming up in just a few months where the honoree is still with us — and, so I'm told, doing well for a 99-year-old. He claims to have written a number of short whodunits published under a pseudonym in his student years but his real significance for us lies in his extensive writing about the genre over several decades and in his connection with the supreme master of pure suspense fiction.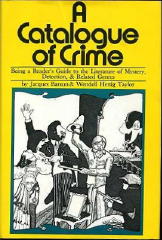 I am referring of course to Jacques Barzun, distinguished professor at Columbia University, co-author of the massive Catalogue of Crime, and, in the early 1920s, Columbia classmate of Cornell Woolrich, who quit college in third year when his first novel sold.
My first contact with Dr. Barzun was back in the late Sixties when I arranged to include one of his essays in my anthology The Mystery Writer's Art (1970). In April 1970, while I was working on Nightwebs (1971), my first collection of Woolrich stories, he invited me to his Columbia office and we spent most of an afternoon talking about what the university was like almost half a century earlier when he and Woolrich were undergraduates together and sat next to each other for several courses.
We corresponded off and on for several years. After translating from the French (a language I had never studied) an essay about Georges Simenon's pre-Maigret crime novels, I presumed on my acquaintanceship with Barzun and asked him to look over my draft before I sent it in to The Armchair Detective He made many small corrections, one of which I still vividly remember: I had rendered a line from an early Simenon as "Marc's bottle was empty" which he changed to "The bottle of marc was empty," pointing out to me that marc is a cheap French brandy. But on the whole he was hugely pleased with my translation, saying that he was "truly amazed" that I had done it without ever having taken a French course and that it was "certainly better than much advanced student work in a Romance Language Department."
In the early Eighties I became involved with Nacht Ohne Morgen (Night Without Morning), a documentary on Woolrich for German TV, and arranged for the director, Christian Bauer, to interview Barzun. They talked for almost an hour but only about a minute of footage found its way into the finished film. I obtained an audiotape of the entire interview and quoted from it extensively in my own Woolrich book First You Dream, Then You Die (1988). If Jacques Barzun had not been still alive and well and blessed with a vivid memory, we would know so much less about a key period in Woolrich's life. For that gift to the genre and for countless others, merci beaucoup. May his hundredth birthday be a joyous one and not his last.
— From MIKE NEVINS on Christianna Brand, EQMM, and Jacques Barzun, Mystery*File, March 20, 2007
See Francis M. Nevins and a faculty profile.
Hear Mike Nevins on Cornell Woolrich.
See also Christian Bauer.