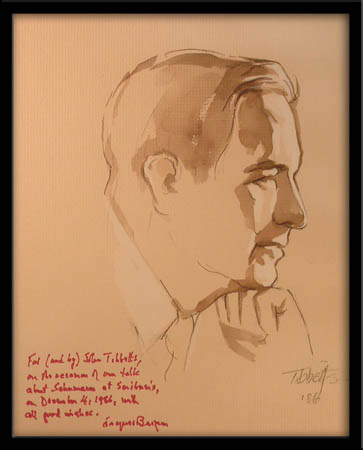 For (and by) John Tibbetts,
on the occasion of our talk
about Schumann at Scribner's,
on December 4, 1986, with
all good wishes.
Jacques Barzun
I want to add my voice to the chorus of friendly tributes to Prof. Barzun. In the mid-1980s he assisted me in the conceptualization of what was to become a 15-part radio series, The World of Robert Schumann. This series is currently being broadcast worldwide via the WFMT Radio Network. Our interviews (his voice is heard throughout the series) contributed greatly to an overview of the Age of Romanticism and the role music played in it. He has continued to express his interest and support of the series. I will forever be grateful to him for his generosity.
I contacted Prof. Barzun through Scribner's Publishers in New York City. He graciously consented to meet me on December 4, 1986, and we spent a very agreeable afternoon in his office, where I recorded the interview. He even inscribed and autographed a watercolor sketch I made of him, as well as signed my treasured first editions of Berlioz and the Romantic Century and his translation of Berlioz' Evenings with the Orchestra!
John C. Tibbetts
Associate Chair, Dept. of Theatre & Film
University of Kansas
Writer/Producer, The World of Robert Schumann